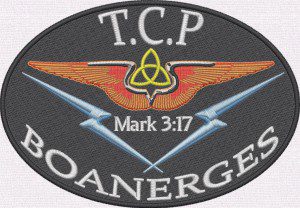 The first questions we usually get is how do you say it and what does it mean?  It comes from the Gospel of Mark (Mar 3:17 ESV) James the son of Zebedee and John the brother of James (to whom he gave the name Boanerges, that is, Sons of Thunder); You can divide it up into four syllables. Boanērges  bo-ä-nār-ge's.  It represents the wild and free spirit of the kind of men that Jesus called, and also we who are born again sons of God thundering down the back roads on our Iron Horses.  Thundering Praises unto our God and King.
If you love to ride bikes and love to be associated with the people of God, those who have been redeemed by the glorious grace of Jesus, then this is a club for you.
Please go and like our Facebook Page for events, rally and rides.
For more information you can contact us:
David Darst davidarst@gmail.com
Justin Herod backroad.backroad@yahoo.com
We joined up with the CMA (Christian Motorcycle Association) Palestine Chapter for their toy run and had an awesome time.